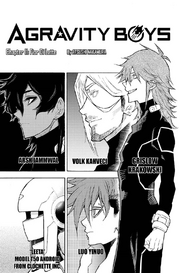 Project Jörð is The Northern Alliance's project to colonize α-Jumbro. Grislow Krakowski is the leader of this group.
The astronauts of Project Jörð went into cold sleep for 20 years after launching, in order to reach α-Jumbro. They reached α-Jumbro around a month after the Agravity Boys had.
Due to a series of misunderstanding involving mistaking Chris for a girl, Grislow has declared the Agravity Boys to be Project Jörð's enemy.
Jörð is the word for earth in Old Norse. It also refers to the mother of Odin in Norse mythology.[1]
All of the human members of Project Jörð have their ears pierced.
References
Edit
Community content is available under
CC-BY-SA
unless otherwise noted.