"So when you add the most mild-mannered and level-headed guy in the galaxy, Chris to the mix... you get an odd but miraculous kind of harmony." -Saga[5]
Chris Erwitt (クリス アーウィット) is a member of the
Agravity Boys
. He serves as the group's doctor.
[1]
Appearance
Edit
"The fact of the matter is Chris is prettier than the average girl." - Baba[6]
Chris has pale skin, light gray hair, long eyelashes, blue eyes and a slight build. At about 5 feet and 2 inches, he is below average height for a human male of his age.
He wears a red hair clip.
Due to his feminine appearance, he is sometimes mistaken for a girl.[2]
Personality
Edit
Chris is the most rational and practical of the Agravity Boys. He is naturally kind, cheerful and friendly, but sometimes become exasperated with the antics of his friends. He believes himself to be the one who believes in friendship the most of the group.[7]
Unlike the rest of the group, he hasn't shown interest in girls and gets annoyed when his friends obsess about them. He also dislikes being treated like a girl or being mistaken for one.[6]
In contrast to his usual mindfulness, he is awful at coming up with good names for things.[8]
Chris is an orphan who grew up together with the rest of the Agravity Boys at an academy for astronauts on Earth.[9] Having difficulties with swimming, those friends cheered him on during a swimming test in Illinois[10]. The Agravity Boys were all chosen for Project Hermes.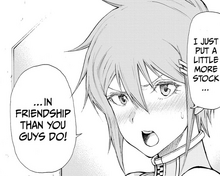 When the Higher Being gives the Agravity Boys the Genar-Diversion elixir, the Agravity Boys initially want Chris to become the woman, since he is the most feminine of the group. Chris told them they were jumping to conclusions. After, the rest of the Agravity Boys start fighting over who would make the best woman, Chris threatens to destroy the elixir to save their friendship. After that, they begin to calm down and realize that the elixir wouldn't have saved the human race. However, the rest of the Agravity Boys begin to obsess over the possibility of there being girls in other colony ships. Chris gets annoyed at this and goes back to his room.[11]
When Geralt gets food poisoning and must be carried by Baba to the ship, Chris helps Saga fend off the dark creatures.[12]
The Agravity Boys discover a beautiful lake in which to bathe. Chris begins to unzip his shirt to take it off, but is stopped by Saga. The rest of the Agravity Boys are worried they will imagine the naked female body while looking at shirtless Chris, since Chris is so feminine looking. They attempt to stall Chris from entering the water. Chris initially thinks that they are trying to protect him since Chris was once bad at swimming. Chris scolds them for preventing him from bathing with them. However, the Agravity Boys feel bad about this, and let Chris into the water. While Chris plays with the water, the Agravity Boys look away. Chris then realized that they were afraid of being turned on by Chris' naked body. On the way back to the ship, Chris didn't speak a word.[13]
When Higher Being asks everyone for what they want, Chris asks for information on viruses and germs on the planet that are harmful to humans. When Chris wins by default in the tournament the Higher Being had set up, he is rewarded by the samples of an enormous plant.[14] He created medicine using these samples.[15]
When the Agravity Boys are deciding what to name the crash landing site, Chris suggests names like "Neo Blue Crystal" along with "Symphonic Risky Restart." The Agravity Boys are surprised how poor Chris' naming sense is and that he unknowingly put his own name in his suggestions.[16]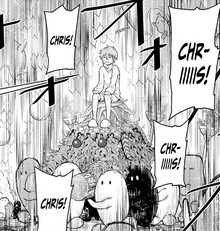 After more than two weeks[17] had passed since their arrival on the planet, Chris is kidnapped from the ship to the home of the Jumbros.[18]. After being taken there, he helps heal a sick Jumbro and then begins being treated like a king by them. They begin chanting his name.[19]
Chris successfully helped take care of Geralt until Saga came back with an herb that saved Geralt's life.[20]
When Project Jörð arrived on Alpha Jumbro, Grislow became infatuated with Chris, not knowing that Chris is male. Upset that the Agravity Boys were treating Chris like one of the guys, Grislow declared the Agravity Boys to be the enemy of Project Jörð. In order to establish friendly relations with Project Jörð, Chris invites Grislow to bathe together in a hot spring.
Grislow accepts Chris' invitation for them to bathe together in the hot spring. Grislow, believing Chris to be a girl, is both eager and nervous. When they arrive at the hot spring, Grislow disrobes first and enters the hot spring. However, he quickly passes out. When he awakes, he sees all of Agravity Boys, except Chris, naked and bathing before him. Grislow returns to his ship. Believing that the Agravity Boys tricked him, Grislow reiterates to his group that the Agravity Boys are their enemy.
Abilities
Edit
Chris is a medical expert. He has been able to create medicine using native α-Jumbro fauna. He used this medicine to heal a sick Jumbro.[15]
Equipment
Edit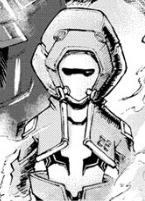 Chris has his own personal Valtari-Reinforced Armor Suit.[21] It is colored blue and white.[22]
Medical Equipment
Edit
As a doctor, Chris has various instruments for medicine.
Chris is shown to have a gun when helping Saga fend the dark creatures.[12]
Relationships
Edit
Chris puts a lot of stock into friendship and gets upset when his friends feud with each other.
The rest of the Agravity Boys have courted Chris in hopes of improving their chances with him if he turns into a woman from the Higher Being's Genar-Diversion.[23]
The rest of the Agravity Boys avoid looking at Chris' shirtless body, worrying they will imagine the female form while looking at him and become aroused.[6]
Baba and Chris spent 72 hours alone together during isolated environment training.[24]
Chris believes that behind the perverted surface, the true Geralt is one who values science and discovery.[25]
Chris is friendly with Grislow. Chris doesn't know that Grislow is infatuated with him and that Grislow thinks Chris is a girl.
Chris is never tempted to ask for a selfish wish from the Higher Being. Chris is particularly suspicious of him.
Chris and Saga have known each other since middle school.[24] Since then, Chris helps up wake Saga every morning.[26]
At 158 cm and 50 kg, Chris is both the shortest and lightest named male character.
References
Edit
↑ Cite error: Invalid <ref> tag; no text was provided for refs named w16bio
Community content is available under
CC-BY-SA
unless otherwise noted.